Made by ANEST IWATA
It was 2 weeks before or so… I was looked up  the internet  any good spray for my test paint. 
We have packed all the atomising expertise that we have gained over the years in order to bring the series to the ultimate heights (kiwami) of technology!!
Such a catchphrase jumped in… The new spray gun Called KIWAMI RT released by ANEST IWATA in 2018.
"Following articles an excerpt from ANEST IWATA corporation"
https://www.anest-iwata.co.jp/english/coating/spraygun/ta2vfs0000004gky.html
It was a light bulb moment and I purchased this one clicked the immediately. Then that an excellent spraygun from ANEST IWATA has arrived.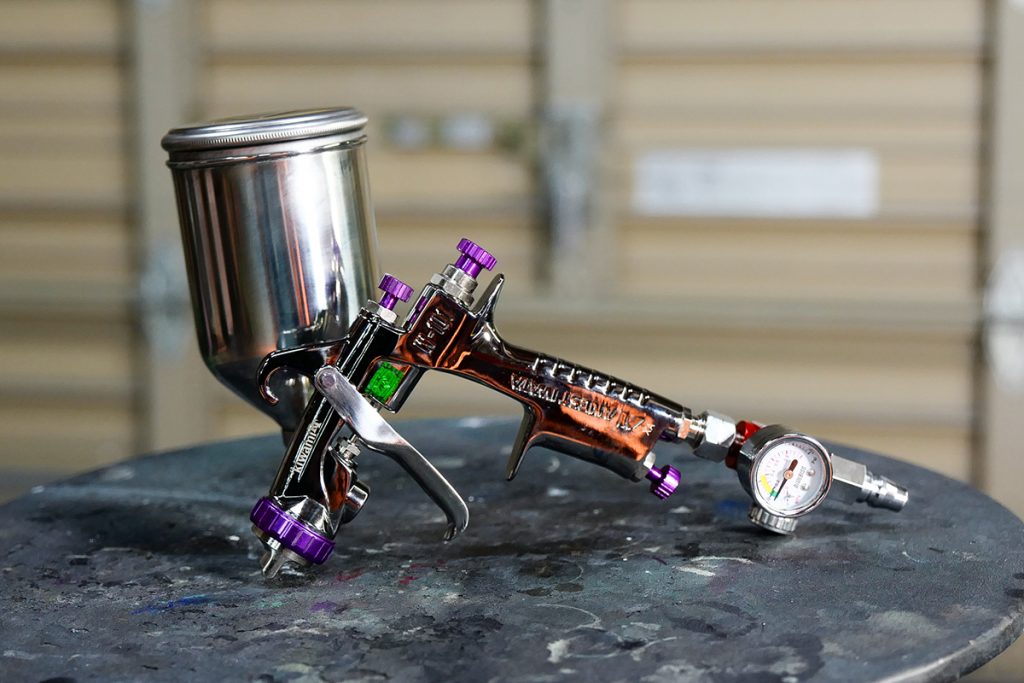 Result, Perfect sparaygun for Silver base component !!!
I'm going straight to the point based on my experience, Kiwami RT is the best optimum and invincible sparaygun our BL Silver Coat RT. The painted surface is really wonderful smoothness. Truly smooth and glossy it's real metallic.
In addition, the most important part of silver base construction is air blow. It might be immediately action after you done painting. It's incredible work sounds perfect!! The silver base itself has a low solvent base it's kind like a water state. So you can see sometimes that some ripples on the surface when the air blows after the paint without time. Then when the thinner and contained silver components goes to volatilised by air blow some ripples trace still on the surface. It silver will very unfortunate look with unevenly paint or paint failure I mean…
For this Kiwami RT : It is very unique spraygun packed atomising. I setting up 0.2Mpa air pressure during the silver base construction but then it's feels delicate  and gentle blows through the surface. Still surely blows thinner, solvent off at once. Since I started to use with Kiwami RT spraygun it seems my work level for BL Silver Coat RT have improved completeness very much. It's really professional.
You can find more detailes on Kiwami RT on their website so if you are interesting about it  please check out their web site. Anyways it is the best suited spraygun for ever.
The following video is showing you to paint work with the silver base component with  Kiwami RT how to use it. Please look carefully all performed kiwami RT's air blow after the silver base component painted without time. The thinner was volatilised and the silver colour, developed, reflection that they appears afterwards.