Application Technique : #039 GlossWell
How to apply the #039 GlossWell PRO: New Function Coating
This is information on how to apply the #039 GlossWell PRO: New Function Coating. Perfect application is possible by closely following the following points, so please read carefully.
Wipe off within one to two minutes after application!!
1Before applying GlossWell, please take time to carefully and cautiously prepare the surface you will be applying it to.
Clear any existing wax and dirt attached to the surface, and remove polish scratches and marks as much as possible.
2Apply a maximum of five drops of GlossWell per use to the coating sponge.
3After application to your surface, make sure to wipe off within one to two minutes.
Surface unevenness due to leftover GlossWell can occur during this stage, so please make sure to wipe off carefully.
Please wipe off before the GlossWell hardens (while still in a liquid state)
GlossWell drying time may vary depending on the temperature and humidity of that particular day.
4Split the surface into smaller sections. Do not apply GlossWell to a large area at once.
5Three days at an ordinary temperature are required for the GlossWell to completely set.
Please carry out final polishing work with the compound from the fourth day onward.
Dry to the touch: 30 minutes
Drying at an ordinary temperature: 24 hours / complete curing takes three days
Forced drying: 70 to 80°C. for 30 minutes, followed by normal temperature for one day to complete curing
One-pack / application by hand / cold-setting type
As #039 GlossWell PRO: New Function Coat is a highly pure, one-pack type, both hand and spray gun applications are possible. Further, with its cold-setting drying conditions, you can use GlossWell PRO: New Function Coat just as though you were applying a wax coating. Experience the dramatic moment in which your treated surface becomes covered by a glass showcase!!
#039 GlossWell Performance Coating :
High hardness level 8H / heat resistance up to 250°C / water and oil repellent properties achieving high releasability
High hardness level 8H: Prevents the occurrence of scratches caused by polishing on the application surface.
Superior deformation following property on various bases, with coating surface cracks unlikely to form.
Excellent heat resistance, able to withstand high temperatures of 250°C.
Excellent water and oil repelling, and releasability properties.
Excellent scratch resistance, chemical resistance, and anti-fouling properties.
Superior weatherproofing, preventing deformation, discoloration, and deterioration of the application surface.
99% light permeability.
Excellent adhesiveness, allowing a one-coat application to various bases. ☆ Please ensure you check adhesiveness beforehand.
Weatherproofing: 10 years or more (expected value ascertained from various test results)
#039 GlossWell PRO applicable bases
Motorcycle, car and other general wheels: Powder coated surfaces / alumite treated surfaces / urethane coated surfaces / polished surfaces, etc.
* When applying to alumite, please be aware that a slight change in glossiness may occur after application.
General coated vehicle surfaces, such as cars and motorcycles: Urethane coating and powder coated surfaces, etc.
Various metals in general: Plated surfaces, stainless steel, and polished aluminum surfaces, etc.
Inner / outer walls and flooring of your home, furniture, etc.
Plastics and resins in general
Wrapped surfaces, etc.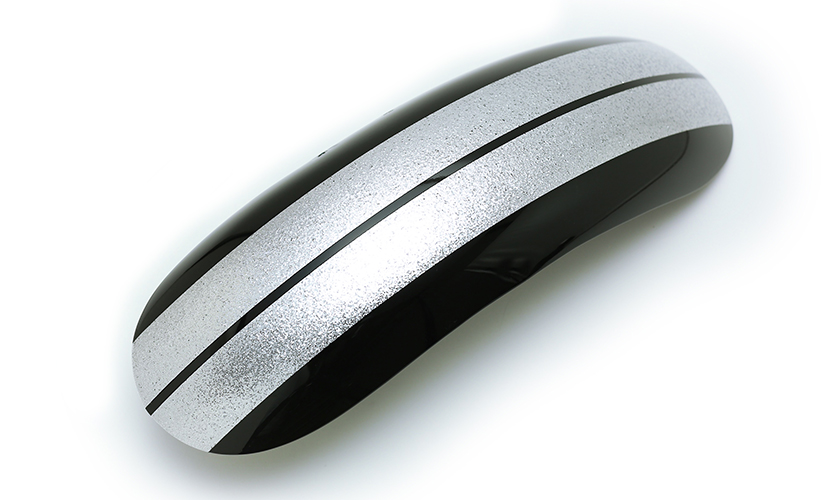 #039 GlossWell PRO: New Function Coating performance coating test data
Hardness: Using Mitsubishi Uni Pencils / 8H
Adhesion test: Created 100 x 2 mm grids. Cellotape peel test gave 100/100
Impact resistance test: Based on the JIS K 5600-5-3 falling ball test. 300g x 500 mm (diameter 25.4 mm) / no abnormalities
Scratch resistance: Steel wool test #0000 500g load / 100 reciprocations / no abnormalities
Acid resistance: 5% sulfuric acid aqueous solution spot test, 23°C for six hours / no abnormalities
Alkali resistance: Calcium hydroxide saturated solution spot test, 23°C for six hours / no abnormalities
Solvent resistance: · Rubbing test (4.9N load / 10 reciprocations) / no abnormalities · Ethanol / no abnormalities · Toluene / no abnormalities · Methyl ethyl ketone / no abnormalities
Warm water resistance: 100 hours immersed in warm water at 40°C / no abnormalities
Contamination resistance: · Permanent marker (black, red) wiped with a dry cloth / no abnormalities · Contamination with carbon black: Color difference between contaminated surface and non-contaminated surface was ⊿E = 0.5 or less
Weather resistance: Sunshine weather meter (2000 hours) gloss retention rate / no abnormalities
Thermal resistance cycle: 60°C for three hours ⇔ -20°C for three hours (10 cycles) / no abnormalities
Salt water resistance: 35°C, 5% saline, 500 hours / no abnormalities
PRTR law applicable substances / not applicable
RoHS instruction / not included * Material: SUS304 Thickness: 4μm Curing conditions: Tested after three days left at ordinary temperature
* The above values are values for reference, and not standard values.
Phenomenal water repellent properties!! Check with your wheels first!!
For automobile and motorcycle wheels in general, many have a powder coated finish regardless of whether they are a genuine product, or a non-official accessory. #039 GlossWell PRO: New Function Coating has been developed with an emphasis on its affinity with such coatings. In addition, we have also succeeded in achieving the same adhesive property as seen with powder coated treatment surfaces, with alumite and aluminum polished surfaces, etc. While the temperature of the dust given off from the brake pads during transit reaches approximately 200°C, by applying #039 GlossWell PRO: New Function Coating with guaranteed heat resistance up to 250°C, it is possible to completely prevent any sort of thermal damage from brake dust to the surface of the wheel. Further, as a synergistic result of its unyielding water / oil repellent properties, #039 GlossWell PRO: New Function Coating protects the entire wheel from discoloration and deterioration, rust, and any dirt from the road surface, maintaining its beautiful glossy appearance for many years.
How to Order
Paint in general is treated as hazardous goods, so for shipping charges, we must make individual estimates by airline according to country and region.
First, please send us the order form below. We will calculate the shipping charges to your nearest airport / Term : CIF.
We will then send you a bill including those shipping charges via paypal. After checking that amount, please decide whether or not to purchase our products.
paypal is our only payment method. You can cancel the order at any time.
Furthermore, please note that it will be about 10~14 days before items are shipped.
Estimated shipping charges
Forwarder & Transportation : ANA cargo or K-Line Logistics
The minimum fee is set for international transportation of dangerous goods.
The following is the minimum fee in each region.
North america / Australia / Oceania / Asia : 45,000〜65,000JPY
Central America : 55,000〜65,000JPY
South America : 75,000〜85,000JPY
Europe / Russia : 60,000〜75,000JPY
India / Middle east : 75,000〜85,000JPY
Africa : 65,000〜85,000JPY
Recruiting Distributors & Dealers
Contact : Recruiting Distributors & Dealers
BL HY-COATER
PRESENCE Co., Ltd. / BADLAND
2-39-45 Shishigaya Tsurumiku Yokohama Kanagawa Japan
ZIP CODE : 230-0073
TEL +81-45-717-7026 / FAX +81-45-717-7027 / e-mail : info@badland.net